Your Trip To DC
How Can We Help?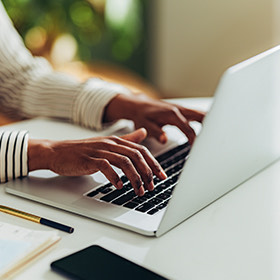 Frequently Asked Questions
What time is check-in?
What time is check-out?
Do you take a security deposit at check-in?

Yes, we authorize a $50 per stay credit card charge at time of check-in. We require a security deposit to ensure the safety of our guests and preservation of our property, as well as to cover any incidentals that may occur during your stay. This can include anything from breakfast charges to room damage and missing items in the room upon check-out.

Our security deposit is taken in the form of a credit card authorization at time of check-in and refunded back to the cardholder if there are no damages or incidentals, usually within 3-5 business days following departure.
How many rooms are there at The Normandy Hotel?

The Normandy has 75 total guest rooms.
What do I need in order to check-in to The Normandy?

All guests checking into The Normandy Hotel need to be at least 21 years old and will need a credit card and valid ID.
What is The Normandy Hotel cancellation policy?

Cancellations must be received by 24 hours in advance to avoid the fee of one nights room and tax.
I need to make a change to my reservation. Who should I contact?

If you made a reservation on a website other than our hotel website, you will need to contact the booking agent/website that you went through in order to make any changes. If you booked directly through The Normandy website or made reservations by calling the hotel, adjustments can be made by calling the hotel directly at 202-483-1350.
Do you provide ADA accommodations?

Yes, we offer accessible rooms. To reserve an accessible room, please request availability at the time of booking.
Does The Normandy Hotel allow smoking?

The Normandy Hotel is 100% smoke-free. A $250 cleaning fee will be applied to your bill for smoking in guest rooms.
Are pets allowed at the hotel?

Yes! All pets stay for free at The Normandy Hotel.
How do I book a group?
Do you have a fitness center?

The Normandy Hotel does not have an onsite fitness center. However, we have a partnership with Mint Gym. All guests have full access to the gym and classes as a guest of the hotel. You can learn more here.
What are your housekeeping services?

Housekeeping services are provided upon request. If you wish to receive housekeeping service for stays of two nights or more, please notify our Guest Services team upon arrival.
Transportation and Parking FAQs
What is the address of The Normandy Hotel Washington DC?

The Normandy Hotel DC
2118 Wyoming Ave NW
Washington, DC 20008
202-483-1350
How do I get to the hotel?

The Normandy Hotel is located in the Kalorama neighborhood. The easiest way to reach the hotel is via Uber/Taxi.

We are located 6 miles from Ronald Reagan Washington National Airport (DCA), 29 miles from Washington Dulles International Airport (IAD), and 35 miles from Baltimore/Washington International Airport (BWI).
Is parking available at the hotel?

We have limited valet parking at The Normandy Hotel. The cost is $45 per night, inclusive of tax. Spots are very limited, click here to book our parking package and reserve a spot in advance.
Is the Normandy Hotel close to public transportation?

The Normandy is located near Washington DC's Red Line Metro. We are a 1/2 mile from the Dupont Circle stop, about a 10-minute walk, offering easy access to Washington, DC's most exciting attractions.